To help you determine if I'm someone you might even want to approach about working together, allow me to introduce myself.
Professional Background
Professionally, I am known as Mitchell K. Hobish, Ph.D., but answer readily to "Mitch." I've been self-employed as a consultant and freelance scientist and technologist for over 34 years, currently doing technical work as Sciential Consulting, LLC.
Throughout this technical work and as far back as my first undergraduate career, I've had a growing desire and ability to work with people in a helping/coaching capacity. I enjoy helping others bring forth the best in themselves.
I've received training to formalize my coaching skills as a Certified Professional Coach, but depend primarily on my experience. Having worked with individuals at all levels in corporate, academic, and government organizational structures, I can easily assess with full understanding the techniques necessary to ensure top performance.
My analytical and communications skills–deriving from natural tendencies, but honed as an English major (with a minor in electrical engineering)–allow me to do work with clients in a very effective and efficient manner—often with humor, and always with my eye on the prize: A satisfied client!
Personal Background
While based on my experience and expertise in technical matters, I also bring to the table what I've learned from my 71 years of life experiences.
I've been married since 1983. I moved to Montana in 2001 after living in Baltimore, MD for 27 years. I love the mountains and the valleys, the clean air, and the people I'm pleased to call friends and neighbors.
In my off time I do a lot of reading, with topics including technical journals, biographies, philosophy, science fiction, spy novels, murder mysteries, police and courtroom procedurals, and more. Basically, if it's written down and I'm near it, I'll pick it up and read it!
I dabble in playing folk music ('60s-style) on the guitar, and have played at playing the piano, having become very proficient in Beethoven's Moonlight Sonata. OK, it's a limited repertoire, but I love it. I routinely listen to music of various genres, including classical, folk, jazz, and ethnic selections. We are season subscribers to the Bozeman Symphony Orchestra, an organization that adds so much to our little valley community.
I have for years routinely volunteered in several community activities, including membership on the board of trustees of our community's volunteer fire district; judge/appraiser at student competitions such as FIRST Lego League, Destination Imagination, and various speech and drama competitions; and working with the Montana Space Grant Consortium. I love working with the kids, often taking the opportunity to try to teach them something even during my more critical activities. Their response has been heartening, so I can conclude that I'm doing something right!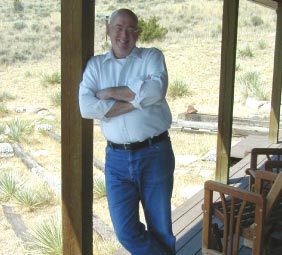 By working hard to integrate my awareness and responses across professional and personal activities, I've been able to develop skills and techniques that help me achieve my goals—skills and techniques that may be of similar benefit for you.
Thirty years of professional work in academic, private sector, and government support.
Superlative analytical and communications skills.
Voracious reader, applying concepts learned to all situations.
Significant community volunteer work.